-get ready-
A Course in Miracles
Summer Retreat for the Soul
June 19 -24th, 2022
Everything you need to know about your trip...
Arrival Day: Sunday June 19th
REGISTRATION AND CHECK-IN: Arrive between 4PM-4:45PM.
WELCOME DRINKS, APPETIZERS, and INTRODUCTIONS: 5PM
WELCOME DINNER: 6PM
EVENING PROGRAM: 7:30PM
NOTE:It is a bit of trick to arrive at Nature Bridge specifically between 4 and 4:45pm! If you arrive to the Lake and hour or two early visit the Storm King Ranger Station or head to Lake Crescent Lodge for a refreshing drink, a snack, or a quick stop in their charming gift shop for a few postcards.
The view from the Lodge is spectacular and you will immediately feel transported back in time. Wander the property, walk out on the dock, sit by the warm fire in the historic lobby, or enjoy the view from the sun porch.
Additional Options
If you have a leisure day to drive out to Nature Bridge:
SEQUIM & PORT ANGELES
Sequim is a charming city! The Oak Table is a local favorite for lunch (stops serving food at 3pm). They have peninsula favorite specialties and the best coffee in town!
Visit the Olympic National Park Visitor Center in Port Angeles. This visitor center will give you your FIRST taste of all that Olympic has to offer! The center closes at 4pm.
If you are a lavender lover try to the Lavender Experience and visit a farm. The Lavender is just starting to bloom.
Port Angeles Swain's General Store is a historic favorite. A old school general store with nearly every possible need for camping, hiking, etc. etc. It's a fun class to wander just to get a feel for life in the PNW! Need a flannel shirt? An Olympic tee? They've got it!
Suggested Packing List
Clothing
5-6 short/long sleeve t-shirts
2-3 running-style long tank tops (for layering)
2-3 sweaters or sweatshirts
1 Light colored or white shirt or sweater (for a special evening event!)
3-4 pairs of jeans, warm yoga pants, sweat pants (or whatever you are comfortable in for classes and hiking)
6-8 pairs of socks (they get wet, mossy, and twiggy!)
Bathing suit: The Polar Bear Plunge in Lake Crescent is a rite of passage for the brave at heart, but for the first time in years Sol Duc Hot Springs is open for 90 minute hot-mineral pool soaks. Heaven after a hike to Sol Duc Falls.
A parka AND/OR a fleece jacket (I always have both)
A raincoat or inexpensive rain poncho (toss in the back pack on an iffy weather day)
Flip flops (for the Bath House, wading in the lake, or after a hike)
TWO pairs of good walking or hiking shoes (trails can be muddy and for the first time in years…snowy!)
Ideally: Walking/running shoe (for Nature Bridge daily activities)


+ Light pair of hiking boots or hiking-boot-style walking shoes that have been waterproofed.
NOTE: You do not have to have hiking boots as long as your running/walking shoes have a thick, good grip. If your shoes have flat soles like Converse you will slip and slide on the gravel trails.
OPTIONAL: A cozy shoe like an Ugg boot or something comfortable for morning beach meditations, a short forest walk, campfires, long car rides, or heading over to the Bath House if needed. After a long hike the first thing I normally do is get my hiking boots OFF my feet!
Accessories
Knit hat (evenings and mornings) and baseball cap (canoes and the beach)
Light gloves
Scarf
Small backpack
Water bottle
Sun screen and mosquito repellent
Cosmetics and toiletries
For Class
The 3rd Edition of A Course in Miracles. If you have yet to order it then purchase the hard copy which can withstand the test of time.
Journal
3 SMALL items that represent you and what you love. This can be photos, trinkets, a small plush toy, a rock, or anything significant.
Weather
The forecast for mid-June is partly cloudy, with low 60's to low 50's in the evenings.
As mentioned before, weather on the Olympic Peninsula changes quickly. It can be pouring rain at Lake Crescent, yet have glorious sunshine at the coast or in the mountains. A recent update from the National Park Service reported that Hurricane Ridge, one of our possible hiking destinations, is still fully covered by snow which I haven't seen in years! Think layers, spare dry clothing, and staying warm.
Covid Update & Requirements
Due to the fact that Nature Bridge services school groups and private groups from across the country, they have had a fairly strict Covid policy.  They are in the process of relaxing and updating their policy but have kindly asked that we comply with their current policies. When we arrive, they will work with us if things have changed.
With that said, it is of utmost important to me that we stay cautious. The Makah tribe has just recently opened their reservation to those outside their community. Because they have remained isolated, it is a risk for them to visit our retreat. I have assured them we will be diligent in testing and keeping them safe for their visit. Likewise, I have also encouraged them to visit ONLY if they feel safe. If Covid cases begin to rise within their reservation prior to our arrival, it is agreed that either party can cancel at any time for the highest safety of all.
***IF ANYONE WOULD LIKE TO DISCUSS Covid policies with me personally please reach out. I know this is still an unusual time
WHAT YOU NEED TO KNOW
Testing and Masking
You DO NOT need to be vaccinated, however, if you have proof of vaccination bring that with you upon arrival, or send to me via email.
I have purchased TWO SARS-CoV-2 Antigen Rapid self-tests per guest.
To keep everyone safe, I will ask all guests to:

Take ONE self-test upon arrival
Take a SECOND test prior to the arrival of the Makah
If possible, PLEASE take a test 96 HOURS PRIOR TO ARRIVAL. Once you get out to Lake Crescent resources and medical services are LIMITED! If you were to become ill prior to arriving, your best medical care will be Tacoma or Seattle. You do not want to drive all the way to the Lake only to be turned away.
Currently Nature Bridge asks all guests to wear masks INSIDE the main lodge. Due to the fact that their rules may relax prior to our arrival, again, I ask for flexibility. They will likely allow our group to remain unmasked as we will be enclosed in a private meeting room, but I will confirm prior to arrival.
IMPORTANT:  Trip Insurance
Nature Bridge is REMOTE. If you fall ill or experience an injury the nearest emergency care is 30 minutes away.
It can take upwards of AN HOUR for an ambulance to reach you. As suggested on the registration page I STRONGLY ENCOURAGE ALL GUESTS TO PURCHASE TRIP INSURANCE with a COVID POLICY!
If you need help please reach out.
Directions, Transportation & Fuel Stops
Retreat Location:
Nature Bridge, 

111 Barnes Point Road, Port Angeles, WA 98362

[Map]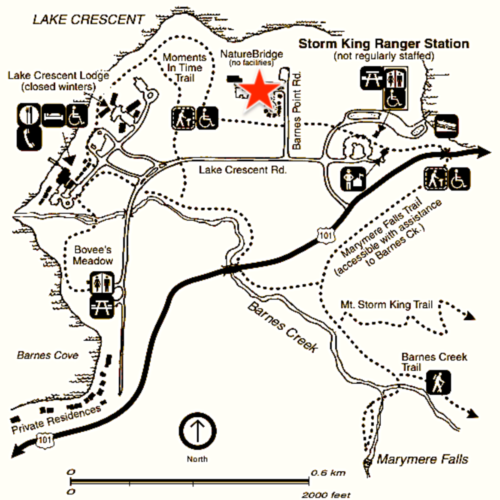 Once you are 30 minutes beyond Port Angeles and can see Lake Crescent, you have 10 minutes before you arrive at Nature Bridge. The turn-off comes up quickly! You will see signs to Storm King Ranger Station, Lake Crescent Lodge, and Nature Bridge.
TURN RIGHT off the highway
TURN LEFT at the stop sign
TURN an immediate RIGHT at the Nature Bridge sign
PARKING for Nature Bridge is in the lot just past the entrance, on the right.
Transportation

As you know it can take several hours to get to Nature Bridge from Seattle or Portland. If you need help getting to Nature Bridge I need to know ASAP to help you coordinate with another guest. If you have not yet done so please reach out.
Fuel Stops –

there aren't many(!)
If you are driving to Nature Bridge, once you pass the Port Townsend area GAS STATIONS ARE FEW! Before you head out to the peninsula fill up your tank.
You should be able to make it to a stop called the 7 Cedars Casino, Deli and Gas Station. You will see quite a few totem poles, a hotel, art museums, etc. It's a hard area to miss!
From there it is nearly 90 minutes to Port Angeles. FILL UP THE TANK AGAIN! The next best gas station prior to the lake is Safeway gas station or the Arco (807 S Lincoln St, Port Angeles, WA 98362).
If you do not fill-up in Port Angeles, depending on whether or not a small gas station is open, IT CAN BE AS LONG AS FOUR HOURS of driving before you hit Forks on the coast for fuel! Don't get caught on empty!
AFTER PORT ANGELES the only other gas station before Nature Bridge is Shadow Mountain. Gas will be pricey and do not necessarily expect them to be open!
Day Trips & Transportation
We will be car-pooling to Sol Duc Falls (an hour each direction) as well as Riato Beach (an hour+ in each direction). Hurricane Ridge may be a possibility as well (also an hour each way.) If you join another driver on one of these excursions please offer to split the price of fuel making it more affordable for all.
Food
BREAKFAST (8am) and DINNER (6pm) are served daily in the Main Lodge. Nature Bridge offers a standard "campers" hearty meal with vegetarian options, but there will also be supplementary offerings such as Avocado and Tomato Toast, cashew and non-dairy yogurts, vegan soups, greens, beans, protein drinks, etc.
SACK LUNCH supplies are available each morning during Breakfast. Guests can make their own sandwich, salad, fruit, snacks, or select vegetarian options. We will often be on hikes during lunch or enjoying one of numerous picnic tables on campus.
SNACKS: There will be a host of snack bars, fruit, and veggies available but Nature Bridge asks that NO FOOD is allowed in the cabins. Mice WILL find it!
OUTSIDE FOOD & DRINK: Outside food is not covered in the price of the retreat, unless specified, however, Lake Crescent Lodge is a historic resort minutes from Nature Bridge down a beautiful lakeside trail. It is a wonderful place to order a beverage at sunset, have dessert, or if you have free time you can enjoy lunch on your own.

Likewise,

Sol Duc Lodge

, a location we will visit that is an hour from the lake,

 

is another location to pick up a snack and a small bite to eat.

Last but not least there is the historic and beloved

Granny's Café

. Approximately 20 minutes from Nature Bridge, this super funky and fun pit stop has been around for nearly 70 years. The best milkshakes on the peninsula!
Markets
The closest markets are in Port Angeles which is a 30-minute drive from Nature Bridge. I prefer Safeway. If there is special food you need PLEASE PICK IT UP before you arrive at the Lake! Nature Bridge is providing us with refrigerator space and a microwave but we will not have access to their kitchens.

A health-food market is near Sequim is

Sunny Farms

, a local favorite. Sunny Farms is a 60-minute drive from Nature Bridge. Also a great place to pick up special food if you need it.

There are a few small mini-marts such as at Log Cabin Resort and another location near the lake called Shadow Ridge but the selection is sparse. Think of those as your last resort, especially due to the fact that their hours of operation are limited.
*** If you have any food concerns please email me directly
Thank you Joanne for your heartfelt dedication and devotion. You were playful, assertive, lighthearted and deep. Your guidance through the course assisted and enriched my ability to design a healthy, effective, and dynamic structure that helped me balance all aspects of creative flow. I would recommend taking classes with Joanne to anyone feeling stagnant in their life.
Mariana Schulze – Photographer
Working with Joanne has had a profound affect on me both personally and professionally. She has lovingly encouraged me to push past my own resistance and more fully into my heart's desire. Joanne continues to delight me with inspiration. The joy she radiates is uplifting, the nurturing space she holds is comforting, and her clear reflections are motivating. Her vast spiritual context reminds me we are not alone and to get out of my own way. Her gifts are a true blessing.
Jamie Luner – Actress & Entrepreneur
Can I begin by saying how grateful I am to have met Joanne and how blessed I feel having her as my Spiritual Coach? She has helped me grow so much, particularly in finding my true purpose in life, which goes beyond bookkeeping. I am still at awe with everything she has assisted me in accomplishing in such a short period of time. I'm looking forward to what is yet to come. Thank you Joanne for being in my life!
Juliana Ramirez – President & CEO, JR Bookkeeping Services