Visionary Coaching specializing in the tools of Spiritual Psychology, A Course in Miracles, The Artist's Way, and Sensual & Intuitive Arts for those who have Awakened and wish to more joyfully Align.
What is Visionary Coaching?
Visionary Coaching is a term Joanne uses to help clients understand, regardless of circumstances, there is always a healing spiritual or Visionary Perspective available to those who believe the purpose of life is learning to evolve in consciousness. When conflict or issues arise, one who is trained in Visionary Perspective, will immediately move into a place of calm and ask the question, "What is the highest Visionary Perspective available to me at this time? How am I being asked to grow?" Focusing on Visionary Perspective moves clients away from blame/cause and into a solution/creative orientation.
Initiation Program 
The Initiation Program places the emphasis on your current life challenges, pinpoints thoughts and beliefs needing to be updated, and utilizing the tools of Spiritual Psychology to move you firmly on a path towards aligning to your goals and highest potential. 
Program highlights....
Dive into your current life patterns, beliefs, and desires.
Learn to utilize your Authentic Self as your greatest resource and how to trust your intuition and physical body as your natural guidance system.
Discover and dissolve the irrational beliefs and unresolved patterns that, once cleared, will firmly initiate you on to your Purpose & Path.
Activate your imagination with creative action steps to "bypass" the ego's defense/protection system.
Learn how to tenderly care for yourself as your emotional, physical, spiritual, and mental systems shift and update.
Weekly calls, accountability & support, achievable action agreements for those who have "tried it all!!!" and are ready to accept full accountability and responsibility for the outcomes and experiences of their life.
Coaching for ACIM Students
Coaching for Students of ACIM is for students of A Course in Miracles, or beginning their journey with ACIM, who wish to use their current life challenges and goals to deepen their understanding of ACIM text and lessons. 
Program highlights....
Understand the validity of eternal life
Utilize all relationships as opportunity to heal outdated mental and emotional constructs created by the egoic self.
Understand and activate the Holy Instant as a tool of healing.
Understand the purpose of the body as a tool of the egoic self versus the tool of the Holy Spirit.
Understand abundance, or lack thereof, as a direct reflection of your internal mindset and level of trust in the Sufficiency of Spirit.
Understand that miracles are a natural and normal expression of alignment to Divine purpose and Soul.
Understand the concept of Time as a spiritual tool.
Reframe the concepts of sin, guilt, shame as "error" and opportunity to further align with Spirit.
Experience unconditional, eternal Love of the Divine.
Understand the levels of Forgiveness and attune to Forgiveness as opportunity to accept original innocence.
Consulting 
Consulting offers individuals and companies the opportunity to examine the mindset and beliefs operating behind the physical or "Goal Line" needs of the company and expands to include "Soul Line" perspective and motivations. 
Program highlights....
Explore the balance between left-brain "masculine/action/data/drive" and right-brain "feminine/creative/intuitive/recovery" orientation.
Understand the difference between Soul Line vs. Goal Line and utilize the Visionary Perspective of both to elevate your company to a Conscious Driven, versus Performance Driven mindset.
Improve the level of trust, integrity, and honesty operating between management and employees.
Utilize both professional and personal relationships to target and heal unresolved issues naturally improving work environment and community and/or personal life and performance.
Develop curriculum to successfully promote Heart-Centered Listening, Limiting Interpretations of Reality, Reframing, and more.
Update competitive, exhausting, dog-eat-dog models of achievement.
Private Half & Full-Day Retreats
Private retreats offer the components of the desired coaching program in a four or six-hour format. Perfect for those needing to kick-start their intentions with the benefit of feeling you have escaped to a private retreat. 
Program highlights....
Your day begins at 9am with a welcome breakfast of fresh pastries, fruit, and coffee at Joanne's residence or Ojai Valley Inn & Spa
9a-1p: One-on-One Coaching
Lunch at the Ojai Valley Inn & Spa (Half-Day ends after lunch)
3p-6p: Coaching (Full-Day participants only)
Relax & Unwind: Meditation Mount or Ojai Natural Hot Springs
Light dinner with Joanne at her home or your location of choice
Overnight accommodations available with Joanne or the Ojai Valley Inn & Spa for an additional fee.
(*** This program is a private coaching program with Joanne Menon not affiliated with the Ojai Valley Inn & Spa)
Spiritual & Creative Wellness at The Ojai Valley Inn & Spa 
Joanne was the former Master Teacher at the Ojai Valley Inn & Spa offering single-session private, couple, and group Spiritual & Creative Wellness Counseling as well as private and group classes such as Journaling, Vision Boarding, and customized Spiritual/Creative Wellness Programming for Executive Groups, Bridal Parties, Family Gatherings, and any group looking to enhance their retreat with creativity, mindfulness, a inspired heart, and peace of mind. After going on hiatus to Bath, England to pursue her MA in Creative Writing, Joanne will be available for private gatherings and group sessions beginning early 2021. Contact Joanne directly to learn how she can make your retreat one to remember. 
https://www.ojaivalleyinn.com/media-gallery/video-gallery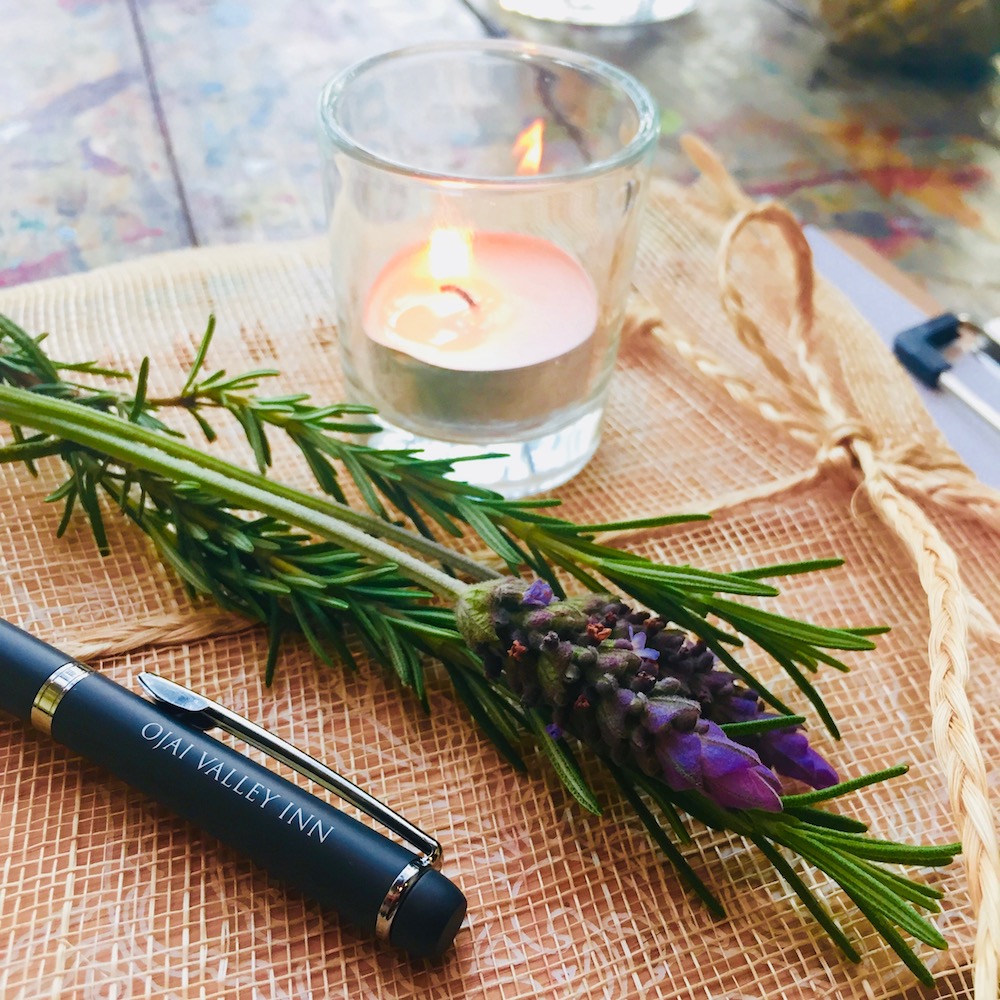 All Programs begin with a Discovery Session to target your goal and help you determine a personal course of action: self-study, group coaching, or a targeted one-on-one program, or consulting package. 
Request your complimentary Discovery Session...
I found my session refreshing and exactly what I needed to hear during the current breakdowns I was experiencing. Joanne guided me through a simple, easy to understand conversation about my Soul Line and the incredible journey I've been on. We uncovered areas of possibility within my professional life that I wasn't aware were holding me up. I immediately noticed a shift in my perspective and even my actions which created better results in my communication and less stress about my new career path. I continue to take actions that are in alignment with what we discussed. I highly recommend working with Joanne Menon!
Marina Porter
Insurance & Financial Services
Working with Joanne has had a profound affect on me both personally and professionally. She has lovingly encouraged me to push past my own resistance and more fully into my heart's desire. Joanne continues to delight me with inspiration. The joy she radiates is uplifting, the nurturing space she holds is comforting, and her clear reflections are motivating. Her vast spiritual context reminds me we are not alone and to get out of my own way. Her gifts are a true blessing.
Jamie Luner
Actress & Entrepreneur
Although I only knew Joanne for a short time before participating in a Discovery Session, her energy told me it would be a good thing, and it was. Joanne pinpointed key issues with which I currently struggle, without judgment, and with understanding and compassion.
Suzy Wilson
Attorney
In the busy, exhilarating, stressful, beautiful madness that is preparing for your wedding, it's easy to forget the importance of quiet, reflection, spirtual preparation, and honoring yourself. Joanne remembered for me. The night before our three day wedding weekend in Ojai, Joanne led a private ceremony to help me do just that: reconnect with what I was really doing there. Joanne created coveted hours of stillness in the midst of an otherwise frenetic weekend. It was an amazing proloque to the coming ceremonies and a gift I would recommend every bride give herself.
Brook Artziniega
Artist
Joanne's gifts as a spiritual mentor are unparalleled. Joanne worked with me to launch my online program. She was able to pinpoint holes in my content offering more depth and cohesion to my program. She was brilliant at editing and tying up the loose ends and offered inventive ways to engage my readers. She encouraging me to find my unique voice, focus on the Higher Purpose of my program, and helped me to more fully open to Spirit so the content could write itself with ease and grace. No more forcing ideas to come out! When I had moments of doubt and fear, she gently guided me through them. When I felt challenged with "What do I write next?" she was there to brainstorm, clarify my intentions, and encourage me to persevere. Sometimes my feelings get tender when someone is editing my writing but Joanne was compassionate, sensitive, and struck the perfect balance of praise and tough love. She has a clear, concise communication style that makes receiving feedback effortless. What a gift I gave myself by working with Joanne.
Krista Kim
Founder Bridge to You, Your Soul's Journey Through Divorce