-Escape with the Divine-
A Course in Miracles
Summer Retreat for the Soul
June 19 -24th, 2022
A Spiritual Seeker?
If you're a spiritual seeker captivated, or even curious, about A Course in Miracles who is ready to actively practice miracles and amplify your Holy Vision – then join us in the sacred landscape of Olympic National Park for this empowering adventure for the heart, mind, and soul.
Yes! I'm ready!
-imagine-
A charming cottage in the heart of Olympic National Park, Washington – surrounded by rainforest green and dark glacial blue. You arrive the week of the Summer Solstice, the most celebrated time of year for Renewal & Light! Imagine the feeling of elation when you realize you are finally understanding a masterpiece – A Course in Miracles. You walk with other curious & creative souls to waterfalls and along rocky shores as you practice the art of miracles and healing your most persistent concerns. All of this, while being filled with calm certainty. Yes, you truly believe – the Divine is guiding you towards the next stage of your life.
Your journey begins before you arrive…
At your pace. Perhaps with a beloved retreat-goer or on your own. Time to unwind in Seattle. You make final calls, wander Pike's Place Market for Dahlias and sweet Rainier cherries, and enjoy the spectacular views from the Space Needle before a restful sleep.
The following morning, the Bainbridge Ferry pulls away from the harbor and the Seattle skyline fades in the distance. The hustle of your life begins to quiet. A stop in quaint Poulsbo, a gallery of gorgeous Salish art, and soon you are driving around the curves of Lake Crescent.
The final road to Nature Bridge is surrounded by towering ancient forests. A gravel road, a handful of guests with boots and backpacks, and a white cottage come into view. You have arrived, relaxed and calm, eager to breathe clean pine air.
You place a hand on your heart and remind yourself… the deepest level of healing is available to you at this time.A Course in Miracles is heavy in your bag, but in a short time, the pages will turn and your pen will wander across the page. Simple images come alive, memories of Love awaken, and the Eternal slowly begins to dance with your soul….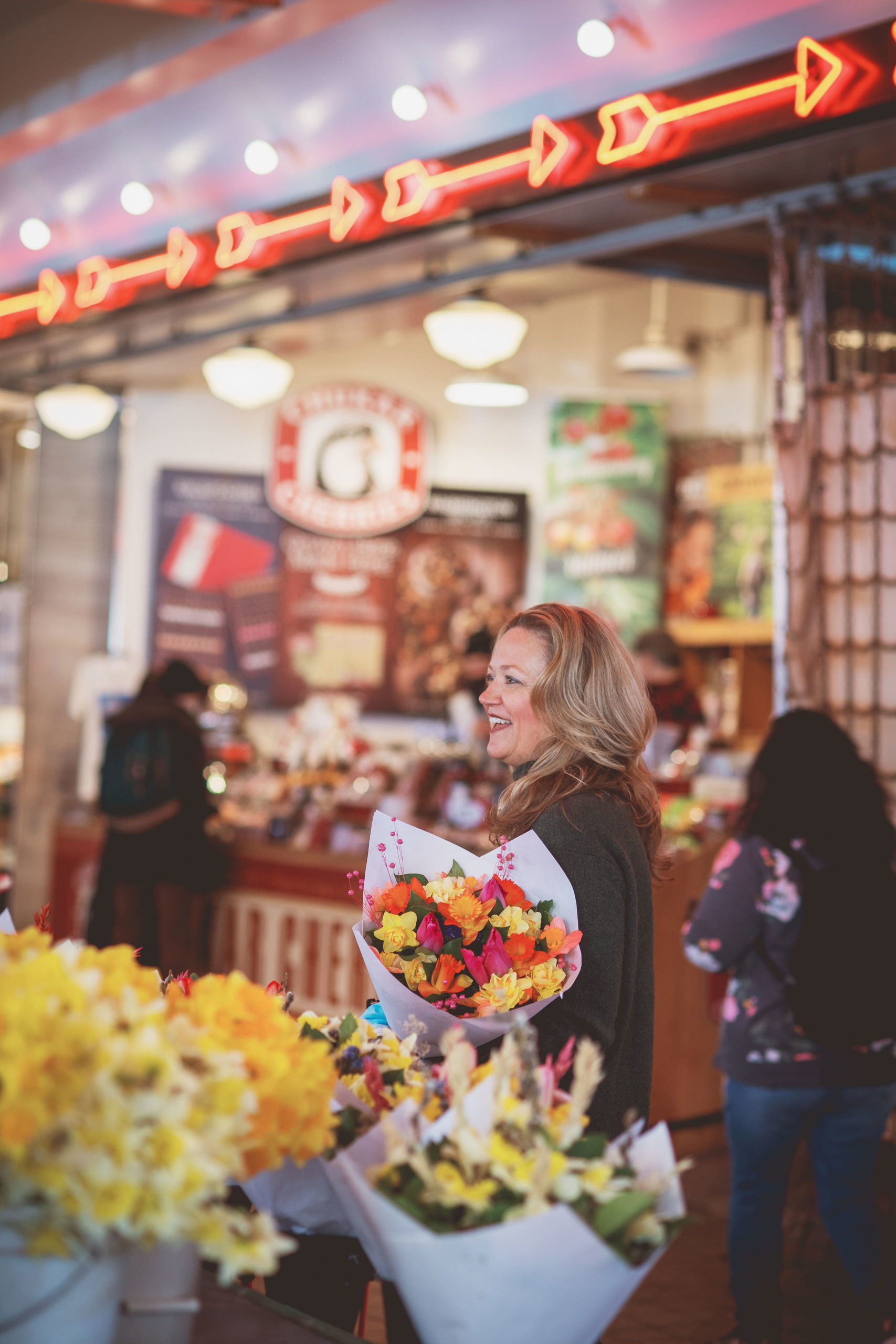 Why A Course in Miracles?
Why Olympic National Park? 
A Course in Miracles found you. You are ready and you know it! You felt a sense of excitement when you heard there were 'Mighty Companions' who share ACIM language and will hold your sacred desires as compassionately as they hold their own.
Joanne is a Mama Bear. She will put you at ease and welcome you with a hug! She is open to your joy, your wonder, your questions, your enormous heart. Raised on this sacred land, nearly five decades of walking Olympic's summer shores, she understands how powerfully the natural world supports the spiritual journey.
You will come away feeling resilient despite living in chaotic times. You are ready to master problems with Holy Vision and explore a world model that is loving, dynamic, and immediately responsive to your needs. 
You will finally have spaciousness & time to center yourself! You dream about quiet. Having time to journal. Sleep. Meditate. Time to feel cool lake pebbles in the palm of your hand. To laugh with people who see your soul.
You have a desire to experience the Eternal in the vastness of the land, in delicate wildflowers, in the sound of crashing waves.
You need a sense of adventure and want the best guides! Imagine the most stunning locations of Olympic National Park with Joanne, expert environmentalists, and the Makah who have been the caretakers of this land for over 10,000 years – a rare offering unavailable to the average tourist!
And…you will to know, you will feel, that God has your back. That He speaks to you every second of your day, and you are the recipient of His abundant gifts and wisdom.
     And that's just the beginning!
I am drawing such comfort and wisdom from Joanne and her fellow class participants, to a degree I could never have imagined…we all have value, purpose, talent and insight in our souls. Sometimes we need an extra-special soul like Joanne in our lives to help us find them. ~Lesley O'Toole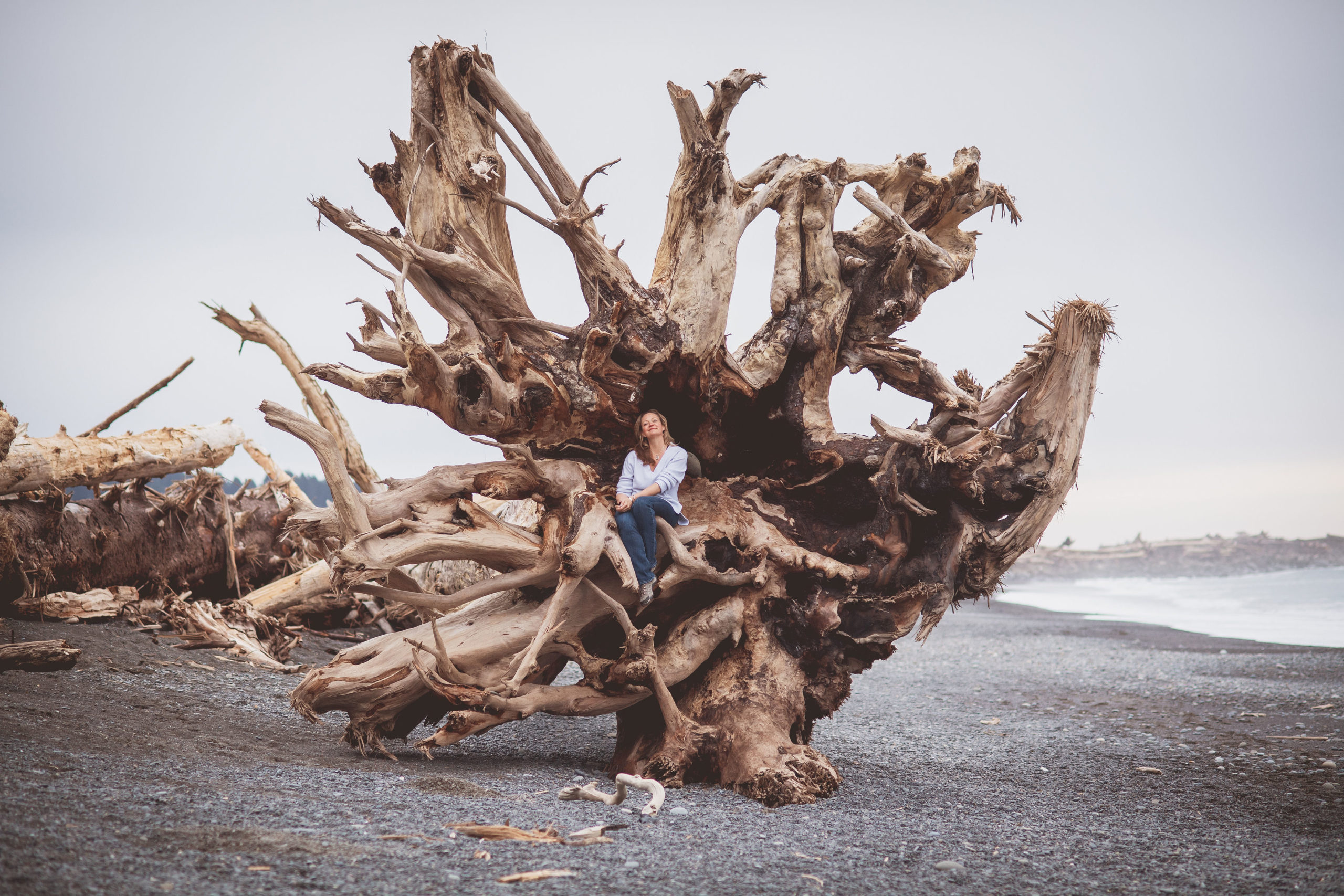 The Makah, the Solstice Spirit & Highlights!

SUMMER SOLSTICE 
It's a beautiful synchronicity that our retreat falls on the Summer Solstice, June 21st. We will be enjoying a sacred celebration to honor this powerful passage of time.
MAKAH ELDERS 
We are being given a rare blessing. Despite tribal territories being closed to all people outside of their reservations since the start of Covid, the Elders of the Makah will be visiting to share their history and lore. The Makah are a coastal tribe which reside in the furthest North West corner of Washington State. The original caretakers of this spectacular land, their spiritual presence and wisdom is profound.
NATURE BRIDGE ENVIRONMENTALISTS
Nature Bridge is the home to scientists. They educate children and adults from across the USA. There is no better way to attune to the land than with those who ensure Olympic is healthy for centuries to come. Journey with them on the Salish Canoes and you will deepen your understanding of their gifts even more.
LITTLE WONDERFUL THINGS
We may be glamping in the forest, but it's always a heart-warming delight to open a door and discover a special little something just for you! You are indeed LOVED, by the Divine, but by your fellow retreat goers too!
Sample Itineraries
It will stay light until nearly 10pm. Olympic weather changes rapidly… if it's raining in the mountains, there could be a fire orange sunset at the coast! Daily itinerary will be posted each morning and subject to change from moment to moment. Release your "need to know" and trust!
Just a Sample….
(~7a) Sleep, Morning Shore Meditation, or Marymere Loop
(~8a) Breakfast
(~9a-11a) ACIM Tea & Text Deep Dive in the Cedar Lodge
(~11a-12p) Break
(~12p-5p) Sack lunch trip to Sol Duc Falls (carpool!)
(~5p-6p) Break
(~6p) Dinner
(~7p) Free time or sunset at Lake Crescent Lodge for libations or fresh berry pie (additional charge)
(~9p) Campfire & Reflections
And another!
(~7a) Sleep, Morning Shore Meditation, or Marymere Loop
(~8a) Breakfast
(~9a -12a) Salish Canoe adventure Lake Crescent
(~12p) Lunch
(~1-4p) Makah Tribal Elder Visit – the Spirit of Native History
(~4-6p) Free time & rest
(~6-9p) Dinner & Renewal & Light Solstice Celebration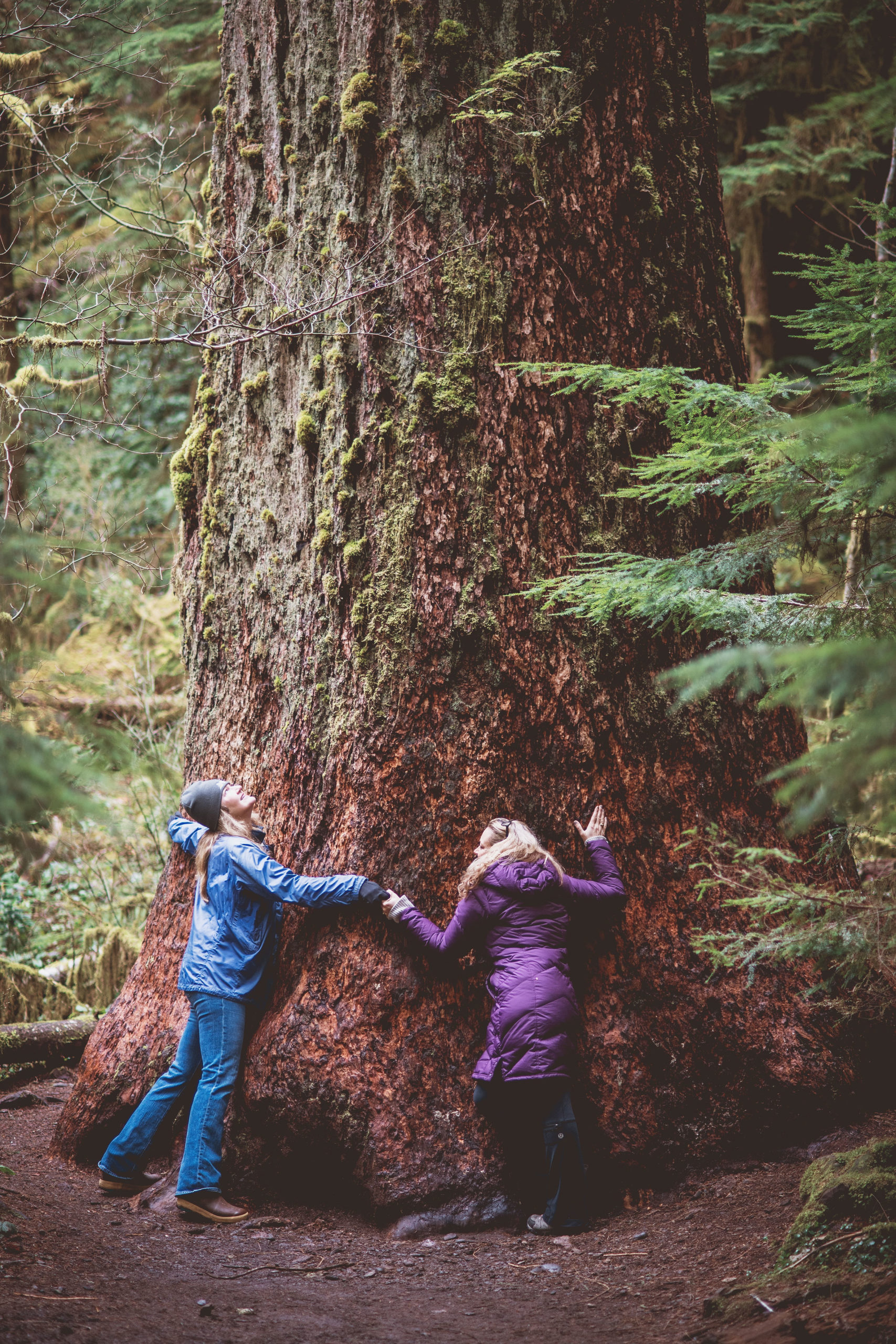 Lodging & Meals
LODGING:
All lodging is unique! Constructed and remodeled over a period of 100 years! Each shared historic cottage & contemporary dorm sleeps 2-4 guests per room.
Choose the charm of the historic cabins by the lake, or the modern dorms tucked in the woods close to the hot showers. All rooms have single twin-bunks, but a few dorms also have double-sized bunks.  You'll have access to both a top and bottom for sleeping/storage.
Bedding is new, purchased exclusively for this retreat. Simple, yet comfortable. You will be contacted in order of registration to select your room and bed choice. If sharing a room 'summer camp' style is a concern, please let us know. A single-room supplemental charge of $650 may be arranged depending on remaining available rooms.
BATH HOUSE:
All cottages & dorms have full access to the Bath House & restrooms, but the dorms are closer. A few historic cottages have a toilet. One has a toilet and tiny shower. These are older accommodations, but the Nature Bridge staff keeps the campus immaculate!
MEALS:
Breakfast, Lunch (& Sack Lunches), Dinners, Snacks, and non-alcoholic beverages consumed on the Nature Bridge Campus are included.
The Nature Bridge menu is hearty, standard hiking food! Teriyaki Chicken & Sesame Slaw, Turkey Penne Pasta & Greens, but their chef is happy to create beautiful vegan and vegetarian options for us.
If there is something you would love to see on the menu let us know! We are in the planning stages. We will have ample healthy snacks on hand as well as a gorgeous selection of Sunny Farms best summer produce to nibble any time!
When a mind has only light, it knows only light. It's own radiance shines all around it, and extends out into the darkness of other minds, transforming them into majesty – ACIM (T:1.XI.5.1)
Locations & Travel 
Nature Bridge is located approxately:
3 hours from Seattle Sea Tac Airport (Car, no Ferries)
4 hours from downtown Seattle (including Ferry crossing)
6 hours from Portland
2 hours from Victoria, Canada (via the Coho Ferry into Port Angeles and 30 minutes by car)
We will be carpooling for day trips due to limited parking near trailheads such as Sol Duc Falls, Hurricane Ridge, and Mora Beach. The journey to each location is approximately 45minutes to 1 hour but a great way to get to know your retreat mates! 
Transportation to and from Nature Bridge is not included. The retreat is scheduled in the middle of two weekends giving guests time to transition from daily life to leisure time in Seattle, Canada, or perhaps arrive early in Port Angeles to enjoy the last stop sites before reaching Lake Crescent. Perhaps you want to visit the Hoh Rainforest and tour the Twilight town of Forks after the retreat?! Lake Quinnault is a lovely option as well.
Tell us what you love to do and we can tell you where to go! While ultimately your Pre & Post journeys are your own, we love this area and are delighted to give suggestions!
The Nature Bridge Campus ★ is located on Lake Crescent, Washington, at the north edge of Olympic National Park (green shading). It is between Port Angeles (30 mins) and Forks (1 hour). In the Barnes Cove area of the lake, it is a 10-minute walk to the Ranger Station and Lake Crescent Lodge.
I am passionate about bringing peace and playfulness into people's lives. Having navigated my own tremendous losses and trials, I believe everyone has the potential to co-create with the Divine, hear the Voice of the Holy Spirit, and experience a deep sense of guidance and belonging.
The daughter of a National Park Service ranger (Yosemite & Olympic) and a mom who loved having my summers to create and explore, I spent my childhood summers making forts by the lake and picking huckleberries. Ancient forests became my first spiritual home. Travel offered yet another. The world had so much to offer! Living with families as an exchange student in Costa Rica, Finland, and England opened my eyes even more.
Eventually, when I was in the throes of divorce, trying to be super mom, and fighting for my son's educational needs, I needed something more. Living in West Hollywood, I couldn't race to the forest to be soothed. I 'accidentally' discovered weekly lectures by Marianne Williamson and began studying the principles of A Course and Miracles. Unexplainable synchronicities began to unfold. A deep sense of peace. Despite turning away from religion as a teen, I realized the Divine had been there all along.
ACIM became my source of comfort, healing my resistance to religion from my younger years. It was logical, methodical, and endlessly loving. It offered experience of the Divine with no dogma, no gurus. Self-study until the Text was needed no more.
Eventually ACIM dovetailed beautifully with my Master's Degree in Spiritual Psychology with an Emphasis in Conscious, Health & Healing from the University of Santa Monica. My professional life as a teacher & consultant, transformed into that of spiritual mentor.
I started my private practice as a Spiritual and Creative Wellness Coach, and became a Master Teacher and in-house Spiritual Consultant for private and corporate guests of the luxurious Ojai Valley Inn & Spa, a job I adored until moving to Bath, England with my husband Rakesh in 2019.
After moving, the Divine nudged me once again, and I completed my Master's in Creative Writing at Bath Spa University, merging the power of writing with my wellness curriculum. Teaching A Course in Miracles, The Artist's Way, and a host of heart-centered writing & spiritual programs is now my greatest joy and offering to you!
Your Investment
$2,250/Per Person USD ($750 x 3 payments: Now +30 days, +60 days) for Shared Occupancy of 2-4 guests per cabin/dorm. Need a different payment plan? We can work with you! NOTE! This installment plan is only available until 15th April 2022!
EARLY BIRD!!! $1,950/Per Person USD if paid IN FULL (A $300 SAVINGS UNTIL 15TH APRIL 2022) for Shared Occupancy of 2-4 guests per cabin/dorm. We are offering a generous discount to those who are an immediate "YES!" and want first choice of cabins and dorms.
Single Occupancy Supplement $650 USD: Additional cost, for your own room. We have very limited availability to offer single rooms, but we are happy to work with you if this is important. Contact us BEFORE you have registered and we will send you a link to pay the supplement if space is still available.
Scholarships: We are offering a 50% scholarship (not including transportation). If you are interested, please email us using the "Questions" form at the bottom of the page. Let us know your situation and reason why this retreat is important for you. We are also accepting applications for one Full Paid Work-Scholarship (not including transportation). For those who love to volunteer, don't mind arriving 2 days early to be part of the team, and can stick around to wrap things up…email us if you are interested!
*** A non-refundable deposit of $500 pp is included with all registration fees. Full cancellation policy can be found on the registration page. *** If you've found this journey after the registration clsoing date, no worries! Email us using the Questions form below! 
What's Included…
LODGING: June 19th (4pm) – June 24th (10am). Shared Historic Cottages & Contemporary Dorms sleep 2-4 guests per Cabin/Dorm with twin-size bunk or double-size bunk beds depending on room assignment.

 

MEALS: Breakfast, Lunch (& Sack Lunches for hikes), Dinners, Snacks, and Beverages consumed on the Nature Bridge Campus.
PRE-RETREAT COACHING CALL/ZOOM:
One (1) private 45-minute call with Joanne.
PRE-RETREAT GROUP COACHING CALL/ZOOM:
One (1) full-group 45-minute call with Joanne.
ON-SITE ACIM PROGRAMMING:
Five (5) Experiential ACIM Group Workshops.
GUIDED HIKES/ NATIONAL PARK FEES: 
Three (3) Guided Hikes to Marymere Falls and Sol Duc Falls, Mora Beach, OR Hurricane Ridge.
SALISH GROUP CANOE TRIP: Paddling adventure with the Nature Bridge Guides in traditional Salish Canoe.
CAMPFIRES & REFLECTIONS:
Two (2) Evening Campfire & Reflection Sessions depending on weather.
TRIBAL PROGRAM: One (1) session dedicated to the history of the local tribes: The Makah, Elwah, Quileute and Klallam Tribes.
ENVIRONMENTAL PROGRAM: One (1) session dedicated to the Nature Bridge forest ecology program
POST RETREAT ZOOM & GATHERING: One month after the retreat we will have a Zoom call followed by a local day gathering for those who can make it!
What is not…

TRAVEL:
– Travel to and from Nature Bridge (Including flights, car rentals, hotels, ferries, meals, etc.)
– Travel to and from Nature Bridge and (2) Day trips to Sol Duc Falls, Rialto Beach AND/OR Hurricane Ridge not included. Carpools between guests will be encouraged and arranged on-site. Parking can be limited.
*** NOTE: A private or rented car is needed to access hikes/locations not included in programming, unless you only hike the trails in the immediate vicinity. There are no Ubers or taxis in this location! ZERO. The nearest town is 30 minutes away. Remember, you are in the heart of a National Park!
PRIVATE SESSIONS:
45-minute "Lake-side Tea Sessions" with Joanne based on availability ($75). Payable during the retreat. 
WINE & SPIRITS:
Alcohol is not allowed on the Nature Bridge Campus, but available nearby at the Lake Crescent Lodge. 
MEALS: Off property of the Nature Bridge Campus not included unless specifically stated such as sack lunches for the Day Trips.
WIFI: Wifi is extremely limited at Nature Bridge! Cell-service is available, but the closest Wifi is in the lobby of the Lake Crescent Lodge.
Cancellation policies are available on the registration page. Additional waivers, health and meal forms, and special consideration forms will be sent late MAY.
Your questions?
No! You don't have to be an expert at ACIM! Newbies welcome if you have a WILLINGESS to dive in. It's okay if you just found the Text…we all did at some point. It's better to understand the core concepts and then begin, rather than stumble through and give up. I take complex ideas and turn them into SIMPLE graphics. It's true! Two circles and an arrow can represent the entire 'Universe' of ACIM!
Yes! We can help you find retreat-mates to make the drive to Nature Bridge! We will also help with carpooling and the best places to stop too!
No! You do NOT need to be an athlete. All hikes are easy to moderate. However, if you ARE a power hiker this option is available to you as well! Storm King and Mink Lake are for the power peeps! 
What else would you like to know?
Let's chat, schedule a call or send a message below…
Thank you Joanne for your heartfelt dedication and devotion. You were playful, assertive, lighthearted and deep. Your guidance through the course assisted and enriched my ability to design a healthy, effective, and dynamic structure that helped me balance all aspects of creative flow. I would recommend taking classes with Joanne to anyone feeling stagnant in their life.
Mariana Schulze – Photographer
Working with Joanne has had a profound affect on me both personally and professionally. She has lovingly encouraged me to push past my own resistance and more fully into my heart's desire. Joanne continues to delight me with inspiration. The joy she radiates is uplifting, the nurturing space she holds is comforting, and her clear reflections are motivating. Her vast spiritual context reminds me we are not alone and to get out of my own way. Her gifts are a true blessing.
Jamie Luner – Actress & Entrepreneur
Can I begin by saying how grateful I am to have met Joanne and how blessed I feel having her as my Spiritual Coach? She has helped me grow so much, particularly in finding my true purpose in life, which goes beyond bookkeeping. I am still at awe with everything she has assisted me in accomplishing in such a short period of time. I'm looking forward to what is yet to come. Thank you Joanne for being in my life!
Juliana Ramirez – President & CEO, JR Bookkeeping Services